Hunted by Meagan Spooner
I enjoyed this retelling of Beauty and the Beast. Megan Spooner infused it with Slavic folklore. The folklore and fairy tales played a big part in this story. Hunted takes place in Medieval Russia.
Beauty, also named Yeva, was the youngest of three daughters. Yeva (Beauty) has a special bond with her father. Growing up, she would sit next to her father as he told her fairy tales and stories of strange creatures he seen in the forest hunting. Through her bond with her father, she developed a passion for being in the woods, hunting, and a curiosity for nature.
Hunted follows the original story of Beauty and the Beast loosely. Her father faces ruin on a trade gone bad. Yeva's father attempted to bring worldly goods to their small isolated town, but the caravan was attacked and destroyed by the Mongols. The family loses everything from their house to their treasured books. They are forced to return to their old hunting cottage. Before Yeva's father became a trader, he was a hunter and their family lived in the woods. Once he became a merchant, the family moved into town to live. The cottage is run down and in need of repairs from years of disuse.
The sisters get to work trying to bring the place back to life. While their father returns to hunting. Yeva and her sisters worry about his health as he tries to hunt at his age. He hasn't had to hunt and live out in the woods since he was younger. The stress of the situation drives their father to be gone for several days only to return empty-handed.
Yeva begins to hunt for small game. The sisters are careful not to mention it to their father. He has forbidden Yeva to hunt to keep her from ruining her status as a lady. Yeva brings in enough food for her family and the small pelts are used to make warmer clothing for them.
Their situation only worsens. Eventually, Yeva comes to live in the castle with the Beast. How this comes to be, I won't say. I don't want to spoil the story.  What is interesting is the Beast is not looking for love, but for a hunter. He needs Yeva to hunt a magical creature that once caught, will free him from his curse.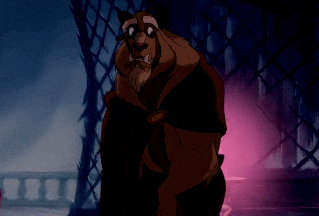 I loved all of the Slavic folklore in Hunted. I have never heard of these fairy tales and it was so much fun to read about them. This added to the interest level of this book. The only thing I didn't care for was when the author went into a whole explanation of why  Yeva didn't have Stockholm Syndrom. I felt like this was unnecessary.
Overall, this was a fantastic read. Megan Spooner does an amazing job describing the elements. When Yeva was forcing herself to walk through all that cold, I had to bundle up in my blankets. The detail with the cold and how hard it was to walk through the deep snow was incredible. I loved Yeva's dog, Doe-eyes. I could be partial because my sweet puppy, Shazam, is a deer headed chihuahua. So, I kept picturing Shazam's face on Doe-eyes. Megan Spooner did a  great job of adding this loveable dog into the story. I always smiled when he was in a scene.
Hunted was told mostly from the point of view of Yeva, but at the end of every chapter, the reader got a snippet of the Beast's point of view. The writing in the Beast chapter was different. It was written in cursive and had ink spots on the pages. This was a very cool touch. Those snippets are a very interesting piece of the story and once the writings are revealed it is a neat moment. I was yelling at Yeva. "Those writings are his!"
The ending of this book wasn't the huge romantic ending you would expect for a Beauty and the Beast story. There is no BAM! FIREWORKS! THE END!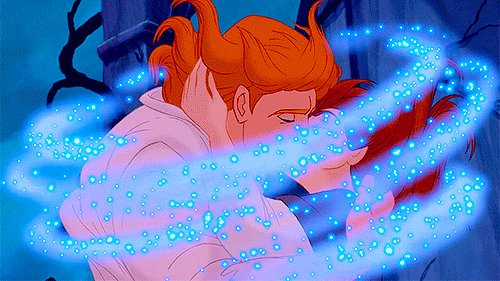 It is more of a quiet reflective ending. At first, I was like what?
But as I let the ending and the meaning of the book sink in, it makes sense.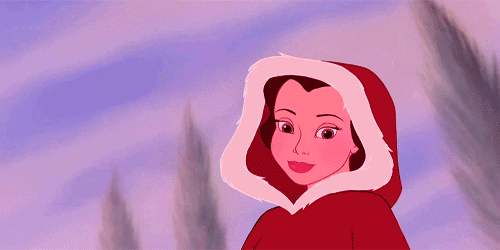 Throughout the book the author referenced fairy tales and the endings. Toward the end of the book, Yeva was told she came to the end of her story, her fairy tale. But, she didn't give up. She kept pushing forward. Yeva and the Beast realized that there wasn't an end to their fairy tale because it was real. The ending showed that it wasn't just a wonderfully romantic kiss, then the end. It showed that they had a whole life of choices and a future ahead of them. It was up to them to make it a Happily Ever After. The ending was perfect for Hunted. I actually did like the ending, it just made sense.
Hunted was different and unique. This isn't your typical retelling of Beauty and the Beast. All the fairy tales you read or watch end when the couple defeats the villain and get together, but they have never hinted about the possibilities of life afterward.  This was a really great read to the start of 2020.
What was the first book you read in 2020?
Until Next Time!