There is nothing like sitting on the couch next to your hubby and completing quests and defeating baddies in a couch co-op game. Those games, unfortunately, are becoming harder to find. I remember the days coming home from work and playing games like Borderlands, Gears of War, and Halo. Games full of action all on the couch next to your best gaming buddy. A lot of the games co-op options are for online only which in turn cuts down on the games I actually get to play with my gaming hubby. It was time for a quest. A quest to find a new true couch co-op game.
Let's get started.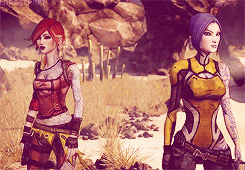 During our hunt, we looked at several different games and watch several reviews. One game really stood out to us. Portal Knights was a highly rated game and is on Xbox's Game Pass. The game pass allows you to download games that are a part of the program. The pass costs $9.99 a month. The pass seemed like a great way to test out games to see if we really wanted to commit and buy them. So, we signed up and began downloading the game.
Portal Knight is a true couch co-op game. It is a split screen done well. My only complaint is that on the menu the number of items needed to make something is hard to see. Portal Knights is a blast. You get to create your character from the different features they have available. Then you are teleported to your first world. Portal Knights are the only ones that can use the portals to take them to the different lands separated by huge rifts. The first land is basically a tutorial on how to do the basics, then you build the portal and proceed to the next land. As you travel to each land you have the option of picking one to be your home. The game is a sandbox with RPG elements. The best way for me to describe it like mixing Legend of Zelda Ocarina of Time and Minecraft. Portal Knight offers a lot for gamers to do. Each land is filled with biome specific villains or monsters to defeat or to make deals with. Portal Knights allow the players to have pets. There several different kinds of pets to buy from special vendors. Plus, if you are lucky, you can find a pet out in the world.
Early in the first land, I discovered a grey mouse trapped in a cage in a dungeon. My husband got one of the coolest pets in the game, Kraky. The pets are more for vanity. They do not help you fight in the game, but they can't be hurt. The pets follow everywhere you go and they teleport to you if separated. These are fun additions to the game.
There are plenty of quests to complete and bases to build.
This game is great to relax on the couch with your hubby or friends and jump through the portal to become PORTAL KNIGHTS!
Until Next Time!